Small Groups
Doing Life Together
Get connected with people just like you who genuinly want to help you connect with Jesus and one another.
GROUPS
WOMEN'S GROUPS
There is a diverse mix of groups for women. Whether you enjoy Sunday morning coffee, crafting or mission work, there is a group for you. Let us help you get connected. Meetings are held throughout the week.
MEN'S GROUPS
Our Sunday morning mens group meets early to pray for the ministries and the rooms that bring God's word to others.
CO-ED GROUPS
Our largest group category includes bible study groups, game days, over 55 bible studies, prayer shawl and quilting ministries to name a few. Meetings are held throughout the week.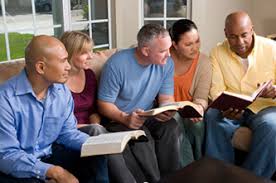 BLENDED FAMILIES
Couples with blended families meet on Sundays to study various topics that strengthen blended families and marriages.