Preschool & Kindergarten
You want your kid's to excel.
So do we!
We want to come along side you to give your child the best peparation for life, in an environment filled with God's love.
St. John Lutheran Preschool & Kindergarten
St. John Lutheran Preschool & Kindergarten is the place where a strong foundation is built upon the cornerstone, Jesus Christ. It is a place where transitions can occur in a nurturing environment. We assist parents in the education of their children, providing age-appropriate activities for academic, social, emotional, physical and spiritual development. Our goal is to bring young children into a relationship with a God who loves them unconditionally and who desires them to be all He created them to be.
Christian teachers share knowledge with young children but they also model Christian living in the process of nurturing and loving them. The children also enjoy the arts and technology.
We would love to visit with you and be part of the educational foundation for your young child.
—Sharon Johnson, Preschool & Kindergarten Director
Registration for 2023/2024 is currently open
We currently have spots available in Kindergarten only. Please call the preschool office at 817.473.0303 or email the director at [email protected] for assistance.
Scroll to the bottom of the page for the 2023/2024 fees.
Curriculum
Wee-Learn
A center-based environment where children learn through the 5 senses and experience hands-on training. Bible stories and music are introduced through chapel time.
Learning Without Tears
Handwriting Without Tears is an award-winning curriculum that offers multisensory strategies and materials to teach pencil grip, letter formation, and the literacy skills that are needed for print handwriting.
Stretch N Grow
Stretch N Grow is a fun and engaging program that gets kids moving as we focus on exercising, building strong muscles, and learning about healthy food choices. 18m, 2's and 3's receive Stretch N Grow 1-2 times a week. PreK enjoys it every day.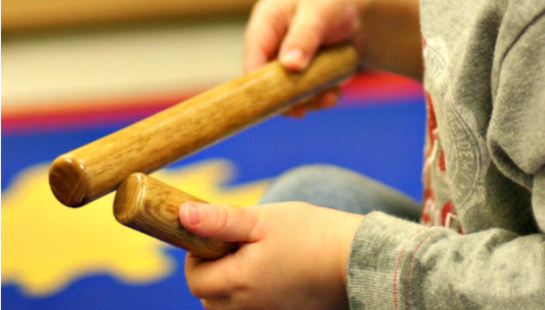 Music
In music, all ages engage in musical learning that are critical to brain development. We use instruments, scarves, shakers, rhythm sticks, and other items to enhance the musical experience. All classes participate in two programs each year, one at christmas and one at the end of the school year.
Health and Safety
We have a strict health policy. Many of our policies are required by licensing, however we go above and beyond the "minimum standards" required by licensing.
See Guidlines
Testimonials
Here is what other parents are saying about St. John Preschool & Kindergarten:
"When our kids started kindergarten in the public-school system, both were so well prepared and excelled in all areas."  Kristi and Lane Canon
"The relationship building and nurturing environment they provide is priceless."  Nisha Marshall
The administrative staff, teachers, and pastors at St. John make each child feel special and loved while providing them with the skills needed as they make the transition from preschool to "big" school. The genuine love they have for investing in the academic, social, emotional, and spiritual health of the children is exactly what I as a parent want for my children."    Stacy Adjei
"Finding a preschool for your child is not an easy feat.  We heard about St. John through word of mouth 8 years ago.  We put both of our children through St. John and honestly loved every minute of it."    Shay Stavenhagen
About Our Classes
At St. John Lutheran Preschool we are committed to developing the whole child. We grow children in five areas – spiritually, academically, socially, emotionally and physically. We are a program that provides developmentally appropriate activities for all children – taking them from their current level forward. Children are placed in classes based on their age as of September 1 – as does Mansfield ISD. All classes use the WeeLearn Curriculum along with various resources to aid in meeting the needs of all learners.
Regardless of which days they attend or the number of days they attend, all children are exposed to the same curriculum and materials. The greater the number of days a child attends, the more in-depth the learning; the more exposure to skills and concepts; and the more immersion in learning.
Below is a brief synopsis of each age-class and the focus in that class throughout the year. We hope this information will assist you in making the best choice for your child. If you have further questions about classes, choice of days or curriculum, please see us in the office and we will be glad to answer any questions you may have. We are proud of the foundation we provide for young children and look forward to serving you.
Toddlerhood is a stage during which a child is learning competence in many skills, particularly in verbal skills, walking, climbing, running, and exploring. The focus is socialization and separation from mom and dad. Toddlers will learn about spatial awareness, sensory development, building vocabulary, and body awareness as they participate in various activities throughout the day. Toddlers will participate in daily Bible time and music or Stretch-n-Grow daily. Toddlers do not have to be potty trained. Choices for toddlers is MWF, TTH, or M-F.
Two-year-olds at St. John Lutheran Preschool spend their day learning to play and playing to learn. The focus is socialization and separation from mom and dad. Twos learn about shapes, colors, numbers, spatial awareness and sensory development as they participate in various activities throughout the day. Two year olds participate in bible time, and music or Stretch-n-Grow daily. Twos do not have to be potty trained; however, toilet training is encouraged throughout the school year. Choices for twos are: MWF, TTh, or M-F.
Three year olds, also known as preschoolers, build on what was introduced in our twos classes. They review shapes, colors and learn to identify numbers and sets 0 to 5. They are introduced to capital letters and begin learning to write their name. Teachers also begin exposing children to various print concepts. Circle time is a vital part of our day when we learn to sit in a small group, take turns sharing, listen to stories, and explore themes. Threes begin working with small manipulatives to develop fine-motor coordination as we learn to handle scissors, glue and pencils. Threes attend chapel on Monday and Tuesday, and music or Stretch-n-Grow each day. Threes must be potty trained and able to "paper" on their own. Informal, teacher observation assessments are done twice yearly. End-of-year parent-teacher conferences are optional. Choices for threes are: MWF, TTh, or M-F.
We call our four-year-old children at St. John, pre-kindergarteners. Our Pre-K classes spend the year learning skills and concepts that will help them to succeed in kindergarten. Shapes and colors are reviewed and teachers begin to establish higher-level math concepts. Numbers and sets 0 – 10 are taught through hands-on play. An emphasis is placed on oral language development, reading readiness and concepts of print. Upper and lower-case letters and sounds are taught using books, songs, centers, manipulatives and small and large group instruction. They will be introduced to sight words and early readers as the year progresses. Fine-motor skills, such as cutting, gluing, and proper pencil hold, are developed using meaningful, thematic activities. Trays and Stations provide further practice across all areas of the curriculum. Independence is encouraged at all times: carrying our belongings, cleaning-up, completing work, hand-washing, opening lunches, preparing for nap, and packing-up to go home.
Fours attend chapel Monday and Tuesday. They attend music and Stretch N Grow Monday through Thursday and Phonemics on Friday. Assessments for fours are done two to three times a year. Children are assessed informally, by teacher observation, and formally, through one-on-one evaluation, two to three times a year. Parent-teacher conferences are scheduled in late March/early April and, while they are not mandatory, they are strongly encouraged. Choices for fours are: MWF, TTh, MTWTh, or M-F
Kindergarten Class
Choosing where your child attends kindergarten is an important decision. We feel that our program is very special and offers an atmosphere that will both educate and prepare your child for first grade and beyond in a loving, nurturing environment. St. John offers a much lower student to teacher ratio than public school and many other private schools. Our kindergarten students receive instruction in ELA, math, science, and social studies in line with the MISD curriculum. Children will be taught/exposed to all Kindergarten TEKS required by the TEA in all subjects including math, reading, phonics, science, and social studies.  We use Houghton Mifflin Harcourt, Go Math, Wonders Grade K, Heggerty Phonemic Awareness Curriculum and Learning A-Z. This curriculum supports our high expectations regarding a Christian, hands on, developmentally appropriate learning. We will also continue to use Learning Without Tears for handwriting. In addition, students also participate in chapel, music and Stretch & Grow. Our focus is to learn through hands on approach, based on multisensory experiences, play, and social interaction. Our goal is that every child finishes the year developmentally, socially, and emotionally ready for the next steps in their learning adventure. We would consider it a privilege to teach your child!
1218 East Debbie Lane
Preschool Hours
Monday-Friday
9:00 AM - 2:00 PM
XTRA Care available before and after school!

ST. JOHN LUTHERAN PRESCHOOL AND KINDERGARTEN OPERATES AS A MINISTRY OF ST. JOHN LUTHERAN CHURCH.
We admit students of any race, color, or national or ethnic origin.
Licensed by the State of Texas and the City of Mansfield.